Lake Highland Preparatory School

 

students and faculty will pay tribute to veterans with music, dancing, drama and video footage. The free show, titled The Journey Home, takes place at 8:45 a.m., 10:45 a.m. and 1 p.m. Nov. 11 at 901 N. Highland Ave. in Orlando. Face masks are required indoors and reserved tickets are available. A virtual event is available online. More information:

 

lhps.org/veterans-salute

Orange County's Veterans Day Flag Raising Ceremony

 

will honor veterans with Mayor Jerry Demings and other officials participating in the event. The ceremony is 9-9:30 a.m. Nov. 11 at 201 S. Rosalind Ave. in Orlando and will be livestreamed on Facebook by Orange TV. More information:

 

ocfl.net

Lake Brantley High School

 

in Altamonte Springs will host a Veterans Day ceremony at its football stadium with a 21-gun salute, flag ceremony, flyovers and a band performance. Local veterans will be honored during the event 10-10:30 a.m. Nov. 11 at 991 Sand Lake Road in Altamonte Springs.

onePULSE Foundation

 

will hold a Veterans Day ceremony at the Pulse Interim Memorial to honor two victims of the June 2016 tragedy: Capt. Antonio Davon Brown of the U.S. Army Reserve and Spc. Angel Candelario-Padro of the Puerto Rico National Guard and U.S. Army Reserve. The ceremony is 10:30-11 a.m. Nov. 11 at 1912 S. Orange Ave. in Orlando. More information:

 

onepulsefoundation.org

Orlando Science Center

 

hosts a special event to honor veterans with a wreath ceremony outside the entrance. The ceremony is 11 a.m. Nov. 11 at 777 E. Princeton St. in Orlando. In addition, veterans can enjoy complimentary admission through Nov. 14 and their families can receive 50 percent off. More information:

 

osc.org

The City of Sanford

 

hosts a Veterans Day Ceremony to honor active and retired members of the Army, Navy, Air Force, Marines and National Guard. Speakers include Sanford police chief Cecil E. Smith, who served in the Air Force, and Ed Burford, a retired member of the U.S. Army. The presentation is 11 a.m. Nov 11 at 110 W. Seminole Blvd. in Sanford. More information:

 

facebook.com

Winter Springs

 

honors our nation's heroes with a presentation of colors from Winter Springs High School JROTC and a musical tribute from the high school's band. Mayor Kevin McCann will present this year's Hometown Hero Award to a local veteran. The ceremony is 6-7 p.m. Nov. 11 at Winter Springs Town Center on Tuskawilla Road in Winter Springs. More information:

 

winterspringsfl.org

Winter Park

 

celebrates local veterans with its 11th annual Veterans Day celebration titled: "Honoring Winter Park Heroes." All veterans are invited to attend the ceremony with guest speakers and musical tributes beginning at 10 a.m. Nov. 12 at 721 W. New England Ave. in Winter Park. After the ceremony, the celebration continues at Winter Park Golf Course (761 Old England Ave. in Winter Park) with free play and tee times for veterans beginning at 12:30 p.m. Nov. 12. More information:

 

cityofwinterpark.org

The City of Orlando

 

brings its 22nd annual Veterans Day Parade to downtown Orlando to honor those who have served and remember the 20th anniversary of 9/11. The parade, beginning at 11 a.m. Nov. 13, travels along Orange Avenue, Central Boulevard and Rosalind Avenue in Orlando. More information:

 

orlando.gov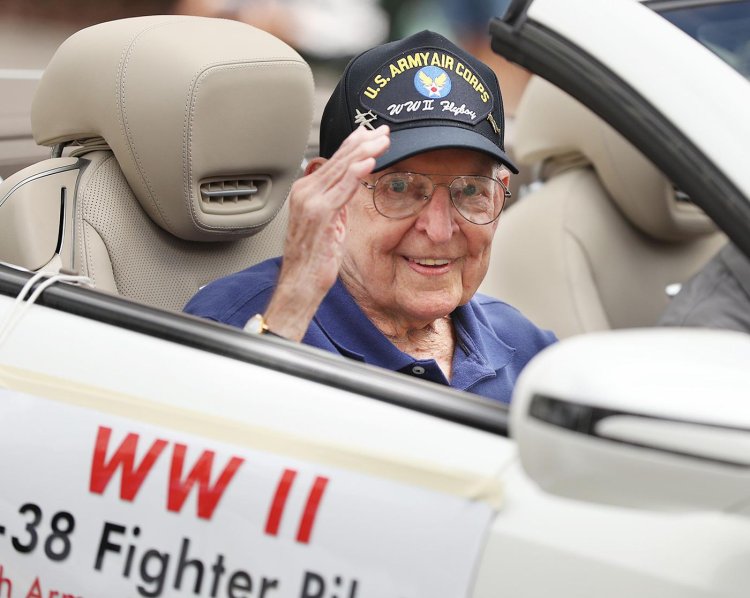 On the Border Mexican Grill & Cantina

 

is giving a free Pick 2 Combo to veterans on Nov. 11. More information:

 

ontheborder.com

American Social, which has a Dr. Phillips location, will take 50 percent off checks for veterans and their families all day on Veterans Day. Take advantage of the deal 11:30 a.m.-1 a.m. Nov. 11 at 7335 W. Sand Lake Road #101 in Orlando. More information:

 

americansocialbar.com

4 Rivers Smokehouse and The Coop

 

are both offering specials for veterans this holiday. At 4 Rivers, the restaurant will offer a free sandwich and two classic sides to veterans, while The Coop gives two free chicken tenders, two sides and a fountain drink. More information:

 

4rsmokehouse.com

 

or

 

asouthernaffair.com

Carrabba's Italian Grill

 

offers all service members, veterans and first responders 10 percent off on Nov. 11 and year-round with a valid ID. More information:

 

carrabbas.com

Friendly's,

 

the family restaurant offering ice cream and burgers, will serve veterans a free cheeseburger, fries and a soft drink on Nov. 11. More information:

 

friendlysrestaurants.com

Metro Diner

 

gives active and retired military 10 percent off all year, but on Veterans Day, the restaurant chain is offering 50 percent off with a valid military ID. More information:

 

metrodiner.com

Miller's Ale House,

 

with eight locations around Orlando, provides 50 percent off entrees to active military members and veterans on Nov. 11. More information:

 

millersalehouse.com

Cicis, the unlimited pizza buffet, is offering a free adult buffet to all veterans and active-duty military on Nov. 11. The offer is valid for dine-in only and requires a coupon, available online. More information:

 

cicis.com
Dickey's Barbecue Pit

 

is giving away pulled pork sandwiches to veterans on Nov. 11 for in-store and online pickup orders with the code VETFREE. More information:

 

dickeys.com

Duffy's Sports Grill

 

allows veterans to eat free from 11 a.m.-4 p.m. Nov. 11. The deal, available for dine-in only, requires a military ID and has a $15 maximum. All active-duty military get 40 percent off food purchases every day. More information:

 

duffysmvp.com

Starbucks

 

honors those who have served with a free tall hot brewed coffee on Nov. 11. On that day, the company will donate 25 cents for every cup of hot coffee sold to be divided evenly between Headstrong and Team Red, White & Blue to support the mental health of military communities. More information:

 

starbucks.com

World of Beer

 

will honor veterans and active-duty service members with $5 off their bill on Nov. 11.

Applebee's

 

serves complimentary full-size entrees to veterans on Nov. 11 including a 6-ounce top sirloin, fiesta lime chicken, a classic bacon cheeseburger or three-cheese chicken penne. In addition, these honored guests will receive $5 off their next meal to be used within three weeks. More information:

 

applebees.com

Buffalo Wild Wings

 

offers a free meal to active and retired military with 10 free boneless wings and fries on Nov. 11. More information:

 

buffalowildwings.com

California Pizza Kitchen

 

will dish out a free entree and beverage with proof of service for active and retired military members on Veterans Day. More information:

 

cpk.com

Dunkin' Donuts

 

gives veterans a free doughnut of their choice on Nov. 11, no purchase necessary. More information:

 

dunkindonuts.com

Golden Corral

 

hosts Military Appreciation Night from 5 p.m. to close Nov. 11 with a free "thank you dinner" for all veterans and active-duty military members. More information:

 

goldencorral.com

Red Lobster

 

honors veterans, active-duty military and reservists with a free appetizer or dessert on Nov. 11 with valid ID. More information:

 

redlobster.com

Wendy's

 

offers a free breakfast combo to those who have served or are currently serving in the U.S. military with a free breakfast combo offer. Take advantage of the deal from 6:30-10:30 a.m. Nov. 11. More information:

 

wendys.com

Yard House

 

celebrates veterans and active-duty military with a complimentary appetizer on Veterans Day. The Central Florida location is open 11 a.m.-11:30 p.m. at 8367 International Drive in Orlando. More information:

 

yardhouse.com

White Castle

 

gives veterans and active-duty service members a free combo meal or breakfast combo meal on Nov. 11. The Central Florida location is open 8 a.m.-midnight at 11595 Daryl Carter Parkway in Orlando. More information:

 

whitecastle.com

Pollo Tropical

 

provides active-duty military and veterans with a complimentary quarter chicken platter and two sides on Veterans Day. This offer is valid for dine-in or drive-thru orders. More information:

 

pollotropical.com

Chevys Fresh Mex

 

honors veterans and active military with a free meal, a three-item combination plate, on Veterans Day. The Orlando location is open 11 a.m.-11 p.m. Nov. 11 at 4158 Conroy Road in Orlando. More information:

 

chevys.com

Bob Evans

 

celebrates Veterans Day with a free meal to active-duty military and veterans on Nov. 11 with seven different menu options to choose from. More information:

 

bobevans.com
Westgate Resorts

 

will honor 900 active duty, veteran and Gold Star military families at Westgate's annual military weekend. Starting at 9 a.m. Nov. 11, families will have the chance to sign up for the celebration at Westgate Vacation Villas & Town Center Resort Dec. 3-5. The weekend includes a 5K run, movie night, military vehicle demonstration, fireworks show and outdoor concert from Chris Weaver or magic show from Jen Kramer. More information:

 

WestgateSalutes.com
The Wheel at Icon Park

 

is giving free rides to retired and active military personnel Nov. 11-14, and their families can receive tickets for 50 percent off. The 400-foot observation wheel will be lit in the pattern of the American flag all weekend. More information:

 

iconparkorlando.com

Kennedy Space Center Visitor Complex

 

will honor veterans, active-duty military and reservists with complimentary admission Nov. 11-14. Up to four additional guests can receive a 50 percent discount on admission. Purchase these tickets on-site at will call. More information:

 

kennedyspacecenter.com

Central Florida Zoo & Botanical Gardens

 

offers all active duty and retired service members free entry with a paid single-day admission on Nov. 11. More information:

 

centralfloridazoo.org

Gatorland

 

offers active and retired military personnel free admission for the entire month of November in honor of Veterans Day. In addition, up to four family members can receive 20 percent off. More information:

 

gatorland.com

Leu Gardens

 

offers free admission to veterans and active-duty military on Nov. 11. More information:

 

leugardens.org

Crayola Experience

 

provides a free bronze annual pass to military members (including active, retired and veterans), law enforcement, firefighters and EMTs. This includes unlimited visits for one year, 20 percent off on-site purchases and discounted tickets for friends and family. More information:

 

crayolaexperience.com
Sport Clips

 

across the country will host its annual Veterans Day haircut event where $2 per haircut service fees will support "Sport Clips Help A Hero Scholarships." In addition, veterans and active service members can receive a free haircut at participating locations. More information:

 

sportclips.com

Great Clips

 

will honor veterans with a free haircut on Nov. 11 or a haircut card to be used between Nov. 12-Dec. 10. In addition, nonmilitary customers on Nov. 11 can receive a card and pass it on to an active-duty military member or veteran. More information:

 

greatclips.com

Barbecue at Home by Dickey's Barbecue

 

offers veterans 15 percent off orders Nov. 11-Dec. 31 with the code VETERAN15. More information:

 

barbecueathome.com

CoolToday

 

is providing free home infrastructure evaluations of HVAC, plumbing and electrical for active military families and first responders throughout the month of November. More information:

 

cooltoday.com/orlando

Winn-Dixie and Fresco y Más

 

stores will offer an 11 percent discount to veterans and active military service members on Veterans Day with valid ID. All shoppers can support nonprofit United Service Organizations through Nov. 16 by rounding up their grocery total or making a donation at checkout.